Montrose Inspection Software
A complete suite of measurement, analysis, reporting and archiving software.
Designed To Increase Profitability
Montrose Technologies provides fast, accurate information to help you make money-saving decisions on product quality, wastage and production rates. The Inspection Software is a comprehensive suite of measurement, analysis, reporting and archiving functions designed to meet the needs of plant floor operators as well as plant managers.
On the plant floor, the software displays shape, size, dimensional, color and external data in a variety of graphical and numerical formats.  Operators have fast and easy access to current results, trend graphs, and alarm conditions.  More detailed information such as reject counts by result type and lane, histograms and measurement statistics are also available.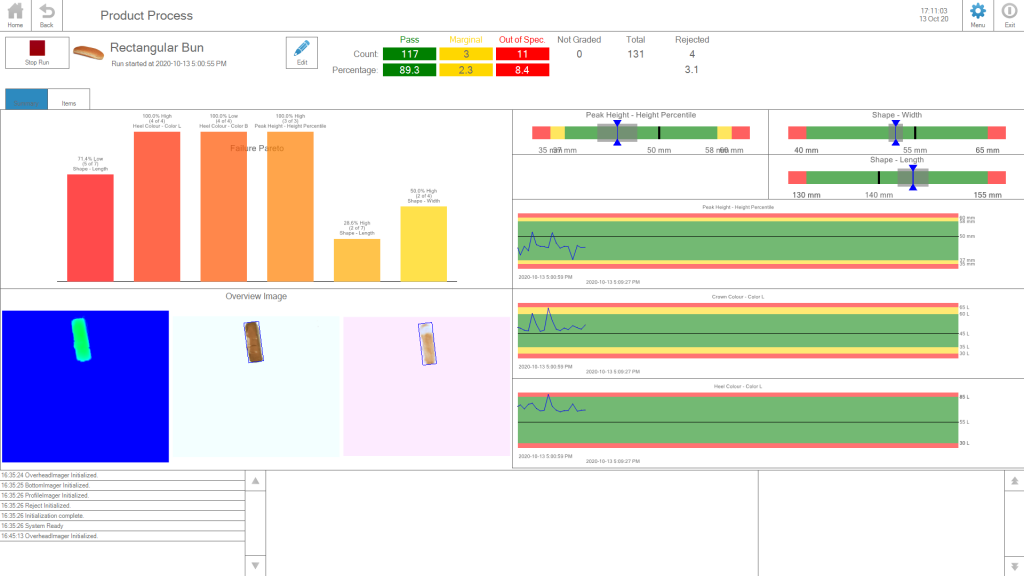 Completely configurable analysis methods for an unlimited number of products.
Configuration of the software is simple and flexible.  Measured results, system alarms, result names, and control limits are all customizable on a product-by-product basis.  Other parameters such as automatic rejection and archiving methods can also be configured for the needs of different products.
Key Benefits:
Simple operator interface (touchscreen-driven)
Results displayed in numerical, graphical and statistical format
Built-in SPC module, including histograms and trend charts
Full data storage for averaged and individual object measurements
Interfaces to external devices such as weigh scales, moisture sensors and pH meters
Can export raw data to other software packages (e.g. ERP)
Supports unlimited lines and products
Simple to setup, calibrate and operate
Includes automatic and manual report generation, in a variety of formats such as trend line, pareto, statistical, for customized time periods
Performs over 100 analyses, including:
Min/Max/Mean Diameters
Min/Max/Mean Heights
Length and Width
Surface Area and Volume
True Top and Bottom Color
Toppings Color and Coverage
Blob Analysis
Physical Product Characteristics and Faults can be Quantified.
Is it time to add vision inspection to your food production line?